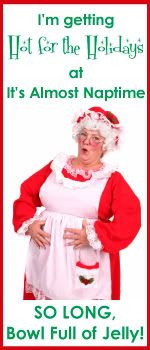 I am sad to say I don't have anything positive to report. It started out with a weekend getaway in Austin that included overindulging in bad foods. One weekend wouldn't have been a big deal, but it ended up turning into a full week. My husband had a huge fundraising event yesterday for the ministry he works in, which meant he wasn't home for the dinner hour this week. I'm not sure why, because I still have 3 mouths to feed at 6PM whether he is here or not, but I am really bad about cooking healthy or cooking at all when he is not going to be eating with us.
Plus, I had an unfortunate incident at McDonald's this week. I generally make my own coffee at home and sweeten it with Coffee Mate's Sugar Free Vanilla Caramel creamer...love that stuff. But Wednesday morning I was rushing out the door to make it to the cleaners in time for their early morning drop-off. Of course I had waited til the last day to get my husband's suit cleaned for his event and needed it back the same day. My morning coffee didn't get made, so I decided to grab some at McDonalds while we were out. McDonalds seriously has some good coffee...at least in the $1.29 a cup range. You know these days they'll put the creamer and Splenda in for you? Such service. So I ordered mine with 4 creamers and 2 Splendas. I know...heavy on the cream. My mom always used to ask me if I wanted some coffee with my creamer. Anyways, it tasted unusually good as I sipped it on our way to the cleaners. The closer we got and the further to the bottom of the cup I reached, it was getting sweeter. Alert! Alert! That does not happen with Splenda. The bottom of the cup was lined with syrupy sugar. No!
Anyone who does low-carb dieting knows how awful it is to line your veins with sugar...but especially how bad it is first thing in the morning. As I am waiting in the incredibly long drive-thru drop off line at the cleaners, wondering how the rest of the town still hasn't discovered wrinkle-free men's dress shirts, I decide to call the McDonalds.
I wasn't really expecting anything to be offered, but I just wanted to kindly let them know of their mistake. They took my name and told me to come back any time for a free combo meal. Great. The only thing that I would need to eat there post breakfast is a salad. But as lunch loomed nearer suddenly a two-cheeseburger meal sounded like an excellent choice. I shared it with the girls but still felt sick the rest of the day.
So as I contemplated getting on the scale this morning, feeling heavy from eating poorly and too much this week, I've decided against having the digital numbers glare up at me. I know what they will say...a gain for sure...possibly two or three pounds.
Eating at home is definitely the answer for me. Even if I totally have willpower avoiding the chip or bread basket when we eat out, I still end up eating too much at restaurants. Does anyone else struggle with this? We all know that portion size in America is out of control, but why can't I just leave some on the plate?
Meal planning is such a drag though...or maybe I just wasn't doing it right. Sitting down with 2 or 3 cookbooks, picking out recipes that sounded good, making a long list of ingredients, going to my cabinet to see what I could cross off...it took forever.
I can't remember which one of you it was, but one of the Hot for the Holidays girls mentioned E-Mealz. I have been using their site for 3 weeks now and it is excellent.
Basically you can pick whatever type of meal plan you want...low fat, low carb, regular type, ww points, vegetarian, whatever...then choose what store you shop at and how many people you are feeding and it plans 7 dinners for you each week...including side dishes.

The best part is that it prints out an aisle by aisle, detailed shopping list for you, complete with prices so you know exactly what you'll be spending. The meals also follow the weekly store ads/coupons so it is definitely budget friendly. The list is broken down by meal #, so if a particular meal doesn't appeal to you, it is easy to cross those items off the list.

Anyway, we have found the meals to be great so here is their link if you want to try it out. Dave Ramsey is an advocate of it, so if you sign up use the coupon code "dave" to save $2.50...that will make it $2.50/month.


I can't even begin to tell you the time and money it has saved us. I am headed to the grocery store now with my list in hand that took my printer longer to spit out than it did for me to plan it.

I'm looking forward to checking in on the rest of you guys and getting my rear in gear for a better coming week. We leave for Disney in three weeks and I have a feeling we'll be bringing the camera with us.