Daddy is the fun guy around here. I love how he can get the girls all riled up before bedtime but also has no problem calming them back down again and tucking them in for the night. He is also the "fixer". It doesn't matter how big or small the task is, if something breaks around here during the day, it is automatically assumed that it will have to wait until daddy is home for it to get fixed.
Although I can compete in both of those arenas, the one role I will never challenge him on is "bug removal". Case in point:
Lily trapped some sort of bug under this glass TWO DAYS AGO. Although it is surely dead, there is no way that I will be lifting the dome to find out for sure. These type of creatures have a way of reviving themselves at inopportune times.
Daddy: if you are reading, PLEASE remember to dispose of this little guy tonight.
We bought a double jogger a few months ago. We got a good deal on it at a second hand shop, and despite its hot pink color, Jerry has been the one to give the girls frequent spins in it. He'll give the girls a jog in it occasionally when he gets home from work to give me a chance to finish up dinner and get in on the table. Hey, the boy likes to eat. I guess that trumps being seen pushing a fuchsia stroller around the neighborhood. I'm sure he's secretly thankful for daylight savings time though.
I wasn't in the mood to haul the girls in and out of the gym this morning, so I thought I'd give the jogging stroller a whirl. Whew. I know the invention of the wheel was great, but it didn't seem to make their 62 pounds any lighter for me today.
I was optimistic as I got going, but then the surface that I'm sure is nearly flat seemed to be entirely uphill and out-of-shape-girl had to slow to a walk to recover. Oh the whining that ensued.
Mom...what happened?
Mommeeeeeee...why did you slow down?
MOMMY...this is boring.
MOM, go fast again!
and the real kicker:
Daddy
doesn't have to go slow like this.
Yeah. And I'm sure your dad isn't panting wildly out of breath and feeling faint after about 90 seconds of jogging with you guys EITHER.
I will have no problem getting them to the gym in the future. The gym machines don't mock me.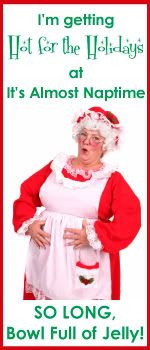 So here is the run down for me this Fit Friday:
I made it to the gym for cardio and minimal weights twice.
I attempted to jog with my girls this morning but it was cut short. Don't they look happy?
I ate pretty decently, but I just remained steady on weight.
I was a little shocked at that, but then I remembered the huge piece of cake I ate Wednesday afternoon. This week marked the end of my little PT at home job. They threw me a little farewell party at the office, and oh my word, the size of the piece of cake they put on my plate? It was big enough for three people. But, being the good sport that I am, I ate the entire thing.
We're heading to Austin this weekend for a good friend's wedding, so I'm sure I'll meet cake once again, and maybe some sparkly bubbly stuff too. If I was the dancing type, I'm sure I'd work all that right off, but I. am. so. NOT.
Next week is a new chapter in our little family's life though. I'm sure without 20-25 hours of paperwork hanging over my head and keeping me up way late at night, I will have plenty of time to hit the gym. And prepare healthy home cooked meals, too. Right?
Actually I'm just hoping to survive Jade's new Daylight Savings wake up time. 5:25 AM is brutal.
Oh, and several of you asked about how Jade's surgery went. She did super. Jade got ear tubes in and adenoids out and is feeling great. She is quicker to smile, more giggly and overall just a happier, chattier kid. I don't think we realized how bad she had been feeling. Thanks for checking in on her.