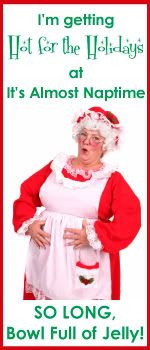 I was really surprised that the scale wasn't a little more friendly to me this morning. I only had two workouts this week, but they were good solid workouts. The best I've had in...well...ever.
Our little mom and pop gym recently got bought out by LifeTime Fitness, so we are enjoying the mega club's benefits until they jack our rates to more than I currently weigh...and then we'll be saying adios. Currently though we are enjoying it at our little old gym's prices.
The problem with a new gym is that it has taken me a little while to get comfortable in the weight area. At our old gym, the hefty man area was on a separate level...far, far away from the likes of me. Although our new gym has separate hefty vs. non hefty areas, they are adjacent to each other, and this intimidates me so much.
So, a few Saturdays back, I allowed Jerry the pleasure of showing me around the new weight area. He was so not enthused. I thought this would surely be the highlight of his weekend. Kids in childcare. Showing off his skillz while parading his wifey around the weight floor. All the whining and constant reminders that he would not be doing this again were enough to last for a lifetime. Where did he want to be? The hefty area. Puleeeeeez.
I listened well and learned fast. I have now decided that I am not going to the gym to only do cardio or only do weights. I will only go when I have time to do both.
The problem isn't me being embarrassed to not even need to use the pin on the chest press...the 20 pound bar is my max, it is the weights where you have to adjust the seat or various other mechanisms to fit your size. That is what gets me. And it happened a couple of times this week. I sit down to do leg extensions and I can't get the dern thing to adjust. I pull. I push. I turn the nob. I apply weight. I take my legs off. Finally I just get off the freakin' machine and get everything to what I think is the right height and length, only to get back on and realize I've overestimated my leg length by a good six inches. That is when I am positive the hefties are huddling and discussing the poor little lady that they are observing in distress. Let's just say my face wasn't red from the workout.
My friend Donna commented last week that all my indulging in Austin probably wouldn't hit me til this week. I wanted her to be wrong, but it seems she was right. So, while my scale is lucky there wasn't a bathroom window to throw it out of, I still actually feel pretty good. I'm hoping to workout 3 to 4 times this week. That may not sound like much, but it has finally gotten cold here in Texas and for some reason that propels me towards hot chocolate and warm cuddles on the couch with my girls.
I do have some good news that I forgot to report a while back. I had my blood drawn at my annual exam...and get this...since doing this diet my cholesterol has dropped nearly 40 points. I am ecstatic about that! Sadly, we are paying higher life insurance rates on me because it had crept up to 199 two years ago. So, at least I know I am eating healthier and doing better overall...if I wasn't such a wimp about needles I'd probably come have them check my blood again to lower our rates. I am more frightened by a blood draw than I am labor and delivery. Freaky I know!